UPS Delivery [Update 3]
So we ordered two copies of Spore's Creature Creator, mostly just to get the box and physical disc of it. Downside: it had to come from the US, GameStop to be precise, as it only popped up on British gameshops earlier this week. Today I received tracking information, with some good news: the package arrived early this morning in Eindhoven, not too far from here. Assuming it may have been slightly delayed at the airport or so (it was awaiting clearance), I hoped the truck would arrive later today with the package. Not true.
Apparantly, the small package has now moved again. While it was in Eindhoven at 4:23AM local time, it arrived in Cologne 6:55PM local time today. It took about 14.5 hours to travel from Eindhoven, 65 kilometers (40 miles) west from here, to Cologne, to about 90 kilometers (50 miles) south-east from here.
So we'll probably get our discs tomorrow, I won't be surprised if it will come from a German truck driver too. Ah well, we can already play the full version thanks to EA, so there's no rush.
Update: The package is in the truck now. Turned out I was slightly off with my analysis above. Eindhoven only showed up in the tracking as its data was being processed there - the package never got there. However, the discs went straight from Louisville, KY, to Cologne, Germany. There it was processed yesterday, and last night it traveled from Cologne to Eindhoven. Still quite silly if you ask me, but I reckon they find it the most efficient solution. Delivery can happen any moment now.
For all the curious I now also have a screenshot of the tracking information (as it currently is):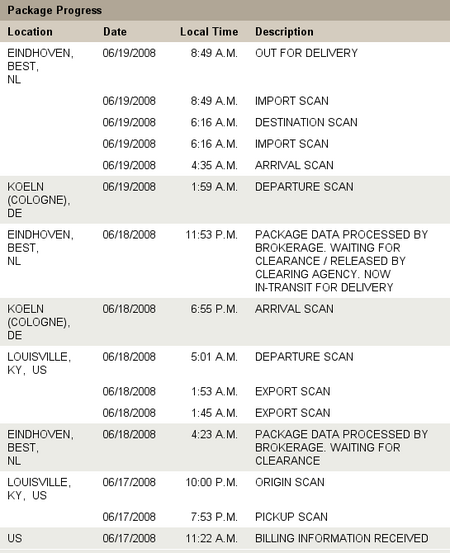 Update 2: After waiting a day long, it seems like the package actually never made it to any truck. It was just scanned a couple of times, again at 5:51PM today (local time). It's still in Eindhoven, new delivery date is tomorrow (20 June). I want those discs!
Update 3: I may be a little late with this, but the package finally arrived... last Monday. Apparantly they tried delivery on Friday but they claim we weren't home - I never heard the door bell ring, but I may have been in another part of the apartment or so. They promised they'd bring it before noon on Monday, it came about 10 minutes late, tracking said it was in time by 12 minutes... Plus Rosana had to sign, they spelt her last name wrong (with an "i" instead of "y", despite explicitly spelling it correctly). Ah well, we have the discs (they turn out to be CDs, not DVDs by the way)! Woot!